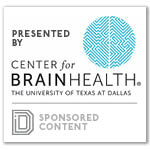 Last week, the Center for BrainHealth unveiled the new home of its Brain Performance Institute.
The 62,000-square-foot building and program center, located at Mockingbird Lane and Harry Hines Boulevard in Dallas, is the first of its kind. It is offering scientifically based programs to increase brain performance, health, and regenerate brain cells.
Reimagined Ribbon-Cutting
Surrounded by some of the world's top brain researchers and clinicians, Center for BrainHealth Founder and Chief Director Dr. Sandra Bond Chapman led a "Reimagined Ribbon-Cutting" on Thursday, Oct. 12.
Guests included Former First Lady Laura Bush, former Dallas Mayor Tom Leppert, military veteran and NFL All-Star Chad Hennings, UT Dallas President Richard C. Benson, and Georgeann McRaven, wife of UT System Chancellor William H. McRaven. Each spoke about the importance of bringing brain performance to the forefront.
The reimagined ribbon-cutting portrayed the lighting of two neurons igniting across an artistically rendered glass synapse, signifying the official opening of the iconic building and the official launch of a nationwide and globally relevant Brain Performance Movement.
Dr. Leanne Young, executive director of the Brain Performance Institute, said the new building is home to programs that help people at all stages of life and those affected by various conditions.
"This isn't just about preventing dementia, although it's important to so many. It's about improving brain performance and health in everyone right now," Young said. "The Institute will help young people focus in school, retrain the minds of those affected by military experiences or sports injuries, strengthen mental acuity among corporate leadership and empower each and every one of us to take charge of our own brains so that we can have healthier, stronger, more energetic brains today and in the future."
Public Grand Opening + Events
This Thursday, during its public grand opening on Oct. 19, the Brain Performance Institute will offer free programs and events throughout the day, and a ticketed lecture in the evening.
Guests will be able to attend brain-centric classes, lectures and exhibits that provide practical tips and insights for enhancing brain performance. Dan Tinker with Posit Science will lead BrainHQ exercises that improve memory and focus from 1 to 5 p.m. Twenty-minute mindful meditation sessions will be held throughout the day, and Gene Christiano, executive chef for UT Dallas' Dining Services, will offer demonstrations for eating a brain-healthy diet from 1 to 5 p.m.  
The reception and lecture from 6:15 to 8 p.m. will feature TED-style talks from Dr. Geoffrey Ling, internationally recognized neurologist, scientist and humanitarian, and Bonnie Pitman, Edith O'Donnell Institute of Art History distinguished scholar in residence. Tickets to attend the evening event are $40 each and can be purchase online.
The Center for BrainHealth, part of The University of Texas at Dallas, is a research institute committed to enhancing, protecting and restoring brain health across the lifespan.
Programs to Be Offered at the Brain Performance Institute October 20 and Beyond Include:
BrainHealth Physical
A brain performance assessment that focuses on the frontal lobe, the area of the brain responsible for executive function, including planning, judgment, reasoning, decision-making and problem-solving
Offered in-person for $750. Includes in-depth clinical assessments, analysis, and feedback from an expert clinician. Participants learn about their current brain performance and receive a personalized action plan for improving it.
Cognitive Training
Cognitive training sessions and training workshops for individuals ranging from middle school children to senior citizens; designed to provide a "mental edge"

Individual workshops: Cognitive strategies based upon research conducted by Center for BrainHealth scientists over the last 25 years are offered to individuals seeking to improve their brain health and performance. These strategies have shown that how a person thinks impacts cognitive performance and, when applied consistently, can lead to both structural and functional brain changes.

6-hour workshops are currently held once a quarter and are open to individuals at a rate of $1,300/person. Additional training sessions will be scheduled as demand rises.
For those requiring more in-depth training to recover from injury or disease, individual and small group sessions can be scheduled with a clinician specializing in cognitive training for clinical populations. The number and length of sessions varies by need.

For middle school children: The Adolescent Reasoning Initiative helps teachers train their students to maximize their brain performance through depth of processing, creativity, and innovative problem solving. Thanks to state funding and private philanthropy, over 50,000 students throughout Texas and four additional states have benefited from the training. Dramatic increases in standardized test scores and overall academic performance are hallmarks of the training. In addition to the public middle school-based program, this training is offered directly to students in a two-week summertime camp and a ten-session after school program during the year. 
For active duty military service members, veterans, military spouses, and caregivers: The Brain Performance Institute's Warrior Training team, which is comprised of combat veterans and expert clinicians, provides high performance cognitive training for veterans, designed with the nuances of military culture in mind. This training has been shown to help returning veterans more effectively navigate the transition from the battlefield back to civilian life by providing practical tools for improving focus and attention and down-regulating emotional responses to stress. Thanks to private philanthropy and state funding, the Brain Performance Institute offers this training at no cost to participants. Since 2013, the Warrior Training team has reached more than 3,100 veterans, active duty service members, and military spouses or caregivers in 26 states.
Corporate/organizational solutions: The cognitive training offered to individuals has been adapted to meet the needs of corporations and organizations looking to improve the brain health of their employees and achieve a cognitive edge. Consulting, continuing brain health education and coaching services are available to assist organizations in adoption and sustainment of brain healthy practices.

Training is offered in 6-hr workshops to corporations and other organizations at a rate of $15,000/training (for 20-25 people per training). Prices for subsequent consulting, education and coaching services will vary by need.
Charisma: Social Cognition Training
Social cognition training for people ages eight through adulthood who want to improve their ability to navigate social situations. While this social cognitive training was originally developed through research with individuals with social impairments, such as autism and ADHD, a formal diagnosis is no longer required to participate.
Our interactive training utilizes a game-based virtual platform called CharismaTM, which generates a variety of virtual environments, such as an apartment, a school, or a coffee shop. Using personalized avatars, clinicians guide participants through strategies for understanding and recognizing social cues and more effectively expressing emotion and intention. By practicing in a virtual world, participants are better able to employ these strategies in the real world.

Social cognition training is offered to children, adolescents, and teens at $1,875/person for 12.5 hours, which includes 2.5 hours of assessments and 10 hours of training
Social cognition training is offered to adults (high school graduates and older) at $1,950/person for 13 hours of training, or for $1,050/person when delivered in a group setting (2-4 per group). An optional assessment is provided before and after training for $600/person.
More on the Game-Based Learning Platform
Grounded in research conducted at the Center for BrainHealth, Charisma promotes social brain-enhancing strategies that have been shown to improve emotion recognition, social-reasoning and self-confidence.
Video-game style interface
Customized scenarios
Real-time coaching
Remote locations supported
Mindfulness
Mindfulness is yet another form of cognitive training that can improve quality of life and brain performance
When used regularly, the practices taught in this program have the ability to change physiological responses to stress, improve focused attention, promote cognitive resilience, improve physical and neural health, positively impact sleep, mood, and life satisfaction, and improve cognitive performance.
The Brain Performance Institute's mindfulness program is unique in that it includes aspects of positive psychology throughout the program.
Offerings include grant-funded programs for first responders, including the flagship program offered to the Dallas Police Department, as well as drop-in meditation classes, introduction to mindfulness classes, and more in-depth programs delivered by experts in the field of mindfulness.
Mindfulness offerings include:
4-week mindfulness class hosted by experts from Mastermind, a Dallas meditation studio, during which participants will learn skills-based cognitive training in the form of mindfulness: $175/person;
Various topic-based 90-minute classes offered by our Mastermind partners to introduce individuals to the practice of mindfulness: $40/person;
Integrative Restoration (iRest) yoga/mindfulness training offered free of charge to veterans and law enforcement personnel in a 6-week series. iRest, which was researched and developed at Walter Reed Army Hospital and is currently utilized widely within the military and other settings, is a modern version of the ancient meditation practice of Yoga Nidra. iRest is specifically designed to induce deep relaxation and provides the perfect mid-day re-charge and escape.
60-minute iRest classes (for general public – $20/person; free for military, veterans, and law enforcement participants); and
Lunchtime "Power of Mindfulness" 1-hr talk – $20/person, including lunch.
Discovery Group
For individuals with Alzheimer's disease or other forms of dementia and their caregivers, the Brain Performance Institute offers the Discovery Group, which helps reframe the diagnosis by focusing on refining existing strengths, rather than on lost function. This unique approach helps inject hope into what is often a hopeless diagnosis and provides practical tools for navigating the journey ahead. Thanks to private philanthropy, the Discovery Group is offered at no cost to the individuals who participate.
Brain-Centric Workshops
Bonnie Pitman, former director of the Dallas Museum of Art, offers workshops around her initiatives, "Do Something New" and the "Power of Observation." Both programs provide additional strategies to improve brain performance. "Do Something New" promotes daily innovation, and "Power of Observation" promotes strategic attention and reasoning.
Beginning in 2018, the public can expect additional workshops around topics such as cognitive bias, integrated reasoning, and the science of happiness.
Brain-Centric Socials
Weekly lectures from experts in their fields provide insights into how we can enhance our brain performance and reveal updates on the latest innovations in brain science. Sips and Science sessions include lunch during noontime talks ($20/seat) and libations in the evening ($40/seat).
Brain-Centric Educational Opportunities
Continuing Educational Units related to the practice of law, health care and business will be offered for a variety of professions.
Note: Insurance is not accepted at this time. For select programs working with clinical populations (e.g. autism or traumatic brain injuries), the Brain Performance Institute can provide a receipt that may allow for reimbursement through Flexible Spending Accounts.
Updated on Oct. 18, 2017, 10:45 a.m.