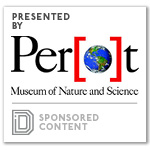 At only half a decade young, and driven by its mission to inspire minds through nature and science, the Perot Museum of Nature and Science has risen to the position of one of North Texas' most popular centers for family fun, unique dates, field trips, and more. As is the case for many popular institutions, thoughtful programming and deliberate, creative exhibit choices help form warm memories that last lifetimes and provide inspiration for formative young minds as well as seasoned learners.
Commitment to Inspiration
The Perot Museum's dedication to having interactive and riveting exhibits is evident in its teeth-rattling earthquake simulations, remote-controlled robot challenges, and prehistoric creatures the size of school buses into its initial designs — and it's the Museum's innovative style in showcasing nature's show-stopping sparkle that is setting a new standard of excellence for science institutions.
For many, the thought of gem and mineral displays conjures images of bland stationary relics behind glass and fading descriptive placards affixed below the gems' nondescript cases. While enlightening to geology buffs, this can prove daunting to new learners lost in technical verbiage.
Cognizant of these common misconceptions and limitations, Perot Museum creative forces envisioned an innovative approach to its forthcoming Lyda Hill Gems and Minerals Hall, which opened in December 2012.
They would not only create a dynamic gallery space to incorporate engaging interactive components and accessible descriptions, but also design the hall to be an impactful aesthetic experience. Specimens ordinarily encased in prosaic displays, illuminated by harsh lighting, would now be presented dramatically as flashy, bold, and magnificent – the stars of their show. This would not be a space solely for education and exploration, but for majesty and marvel.
'Never-before-seen-togethers,' Private Collections, & Objets d'art
Museum leaders also decided to regularly rotate specimens to highlight new additions to the collection. This "loan-versus-own" practice would provide uniquely inspiring experiences over time, inviting guests to appreciate the gems as scientifically complex and captivating artifacts with fascinating "back stories" to share.
With Dallas-Fort Worth boasting one of the largest communities of gem and mineral collectors in the country, it would also place the Museum in the fortunate position of developing ongoing relationships with regional collectors in hopes of displaying specimens from their personal collections in the gallery.
In the five years since its opening, the Perot Museum has hosted a wide variety of loaned gems and minerals. Among these collections is one from the Smithsonian Institution, which boasted more than 20 never-before-seen-together treasures from the National Gem Collection.
Other stunning displays include the distinctive 2-foot-tall The Eyes of Africa "alien eye" mineral; the massive Ausrox gold nugget; and the breathtaking "grape jelly geode," a 2,700-pound amethyst specimen that was the first major exhibit piece installed in the Museum.
This manner of highlighting the dazzling nature of gems and minerals as objets d'art with regular rotation may seem like a no-brainer for a contemporary science or natural history museum, but these practices are novel in the field.
The Perot Museum has helped blaze this trail, and is inspiring other institutions to follow suit. Yale University's storied Peabody Museum in New Haven, Connecticut — a frequent Perot Museum collaborator — is exploring the benefits of these approaches as it creates its new hall. Intrigued by the Perot Museum's aesthetic approach to displaying gem and mineral collections, the Peabody Museum sought to replicate these innovations for its gallery.
Looking Ahead
Not content to rest on its laurels, the Perot Museum is now in the process of expanding and enhancing the Lyda Hill Gems and Minerals Hall by dedicating new resources to further elevate its renowned reputation as an authority in the field of geology.
Even though the Museum just celebrated its fifth birthday, plans are already underway to enhance and refresh the gallery's collections and interactive experiences. To further support this growing center of focus, the Museum has added registrar and director positions to assist with developing and implementing institutional gem-and-mineral strategies.
With this commitment to ongoing advancement and guest engagement by inspiring minds through both the innate beauty and stimulating science of gems and minerals, the Perot Museum is poised to begin the next chapter in its evolution as a world-class science center for the new millennium.