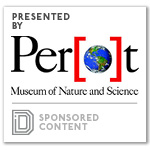 When the Perot Museum of Nature and Science opened in December 2012, its Being Human Hall debuted with cutting-edge contemporary exhibit design, offering glimpses into current innovations in biological science and the complex nuances of the human body.
The original exhibit was conceived to be compelling and accessible to guests with varying levels of scientific understanding and backgrounds, yet dynamic enough to accommodate our evolving understanding of the subject matter and groundbreaking scientific advancements. Since opening, a handful of original exhibit components have been added to the second-floor space, such as five Nobel Prizes and features on human origin discoveries, including three life-size early human recreations.
For many museums, permanent exhibit halls more than live up to the name. Lacking funding or staff for large and comprehensive overhauls, it isn't unusual for some institutions to allow their perennial galleries to stay the course for years — sometimes decades — while dedicating their valuable resources to presenting special traveling exhibitions which drive foot traffic and boost ticket sales. While the Perot Museum hosts at least two traveling exhibitions a year, it is among the rare set of museums also dedicated to regularly updating its permanent halls to maintain momentum and consistently offer visitors something new.  
Five years after its debut, the museum is fulfilling its commitment to keep content fresh and relevant with its first completely transformed exhibit hall. Following a four-month transformation, the Being Human Hall opened to the public on May 11 with an extensive makeover. The new hall teems with twice as many interactive displays as before and an array of innovative content offered in English and Spanish. Guests can explore the traits and abilities that are essential and unique to being human – from early origins and DNA; to the complexities and similarities of the brain, face, and voice; to the miracle of movement.
With a goal of presenting innovative content to pique the curiosity and inspire a broad audience, exhibit designers created a dynamic and unique space that expands and enhances the traditional science museum experience. The resulting exhibit features an assortment of hands-on (and even feet-on!) components that take guests beyond simple placards and Plexiglas cases of museums past.
The new content focuses on research and discoveries spanning from early human ancestry, to modern-day characteristics, to the scientific breakthroughs of local Nobel Prize Laureates. Not to be missed is a virtual-reality experience that puts visitors in the middle of the South African cave where internationally acclaimed paleoanthropologist Dr. Lee Berger recently identified a new species of primitive human, Homo naledi.
Dr. Berger's just-announced alliance with the Perot Museum as distinguished science advisor of its Center for the Exploration of the Human Journey is part of a new strategic focus on human origins. The center will focus on supporting, curating, and disseminating the dynamic research developed by Dr. Berger and his team of more than 160 scientists working around the world. The museum also will act as a knowledge and expertise communications hub for paleoanthropology, a "gateway science" to all other biological sciences. Dr. Becca Peixotto, one of Dr. Berger's research colleagues who helped excavateHomo naledifossils from the Rising Star cave system, will serve as the Center's new director.
"The reimagined exhibit hall is a fun way to be reminded that our own bodies are endlessly interesting," said Perot Museum Chief Innovation Officer Dan Kohl. "We sometimes take our bodies for granted when they, in fact, are marvelously curious, complex and even amusing. The Center for the Exploration of the Human Journey deepens our curiosity by diving into the science of our ancestry and our emergence as a species today." 
"The reimagined exhibit hall is a fun way to be reminded that our own bodies are endlessly interesting."
Thanks to partnerships with UT Southwestern Medical Center, Southern Methodist University, and Children's Health, visitors will encounter everything from a preserved human brain and spinal column, to a vein viewer, to a "true mirror" that reveals how others perceive them. Guests can test their agility and hand-eye coordination through maze balance boards and a large-scale "Operation game-style" buzz-wire activity, and try on a prosthetic running blade. They'll come face-to-face with "Lucy," the well-known early human relative Australopithecus afarensis; a dogface puffer fish with personality (and DNA that is strikingly similar to humans); and their own faces, hands, and strides in a whole new light. Regional accents will be examined, and brainpower will be used to fire off pulsing lights.
Many of the new exhibit components are unique to the Perot Museum itself. Among the exclusive enhancements are a voice visualizer, which allows guests to "see" their voices in shape, color and size, and the "hang time station", which invites them to test their grip strength by hanging off the side of an imagined cliff. The popular Bio Labis back with all-new experiments that let kids and adults alike don lab coats and safety goggles to examine electricity within a living worm, explore wheat DNA under a microscope, and more. The hall also features incredible stories of North Texans in science, including Dr. Helen Hobbs, winner of the 2016 Breakthrough Prize in Life Sciences (the "Oscar of Science") and professor of internal medicine and molecular genetics at UT Southwestern Medical Center.
"The new Being Human Hall is an exciting refresh for the museum that will inspire our visitors to look at and be amazed by something unique to them — their bodies," says Mike Spiewak, Perot Museum vice president of exhibits. "The exhibit has created engaging exhibits that allow guests to explore the traits that make them human — from head to toe."
As the museum celebrates the exciting debut of the new Being Human Hall, the momentum continues. Another example of the museum's commitment to introduce fresh content, its T. Boone Pickens Life Then and Now Hallwill soon undergo its own series of updates — among them, a top-secret feature currently under construction at the top of the museum's iconic glass-encased escalator. From a fresh look at the meticulous (and sometimes dramatic) lab work necessary when paleontology specimens arrive from the field, to a chance to boogie down with the prehistoric crowd, stay tuned for upcoming announcements on the next newly transformed exhibit at the Perot Museum.

Get on the list.
Dallas Innovates, every day. 
Sign up to keep your eye on what's new and next in Dallas-Fort Worth, every day.