Christian Lehinger says he's on a mission to save the lives of 10,000 people and improve the lives of 10 million over the next five years.
Drawing on past personal and professional experiences, he's doing that through his McKinney-based startup Connected Mind—a mental health screening platform that Lehinger says is seeing more traction due to increased awareness and decreased stigmas during the pandemic.
"(Many) of those that are diagnosed with a mental health condition didn't know the symptoms they were suffering from were caused by mental health," Lehinger, Connected Mind's CEO and CTO, told Dallas Innovates. "So many people don't get the help they need because they didn't even know they had a problem in the first place."
Fishing with a net
Lehinger compares the traditional approach of identifying mental health issues to that of fishing with a pole, where physicians search for a single, specific ailment. Instead, Connected Mind's technology fishes with a net—seeking to identify if the patient has any of the most common types of mental health conditions. Taking a quick survey, individuals are screened to see if any issue is present, based on their responses. If so, they are sent to a second tier of screening that helps them and their physician identify specific issues.
"It's like being interviewed by a psychologist, but it's a computer," Lehinger said.
In addition to being available to individuals and in the doctor's office, Connected Mind is also targeting schools and businesses with the technology, making the data anonymous but allowing organizations to see an aggregated breakdown on their members' mental health. That enables them to implement things like employee assistance programs, mindfulness trainings, or changes to general workflow. Individuals can also take the results from surveys done by a school or business to their doctor for help in addressing any issues.
"Mental health is affecting really every aspect of our society, and it's not realistic for it to always be found in the healthcare space," Lehinger said.
Starting with identification
Having worked in healthcare largely focused on IT, interoperability, and efficiency, Lehinger said he was introduced to the issues of mental health screening when a close family member was incorrectly diagnosed as bipolar. That mistake resulted in years of medication that left them in "zombie-like" state until the error was identified. It led Lehinger to form AssessMD, which was eventually sold to a Midwestern private equity firm in 2012. He carried that passion on to Connected Mind, which was formed in 2017. Lehinger says the company's focus on identification is the first step in improving care.
'A whole new frontier'
"Until the identification part gets dealt with, all other solutions can't physically work, because people don't know they have a problem," Lehinger said. "The first step is the identification, then we're going to see some amazing things using AI and…all kinds of different things. It's kind of the Wild West. There's a whole new frontier around helping people live with mental health and effectively deal with it."
Since its 2017 founding, Connected Mind has raised more than $600,000 from investors including Capital Factory, which recently announced plans to open a Center for Health Innovation at Dallas' Pegasus Park development.
Lehinger says he's seen numerous changes surrounding mental health that are propelling Connected Mind's growth. In addition to recent increased awareness and destigmatization, Lehinger points toward expanded coverage of mental health by insurance companies and changes in how doctors are able to bill companies for the care they provide.
"People are starting to realize that mental health is a real problem, and you can't just rub some dirt on it and get back out there," Lehinger said. "You have to deal with the problem." 
'Viral growth'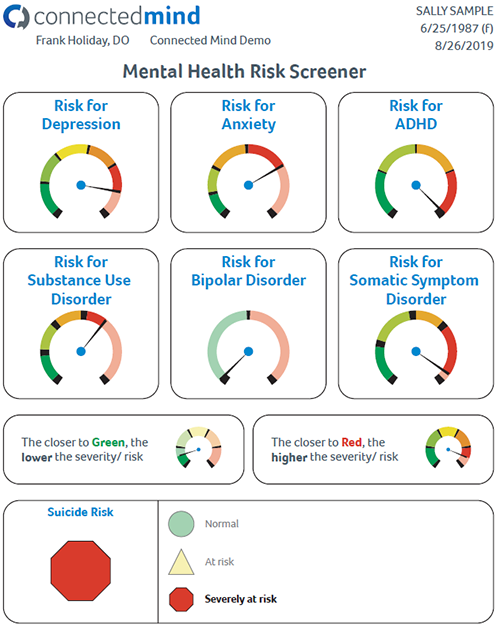 As to his goal to improve the lives of millions, Lehinger says Connected Mind has already saved the lives of more than 4,000—people who checked the box on its survey stating they intended to commit suicide and were able to be connected with help.
Lehinger says the company's platform is already able to handle millions of users at a time. Looking ahead, Connected Mind is focused on sales and marketing to increase its visibility and get its technology in the hands of more people and larger organizations.
"There's going to be some viral growth towards the identification (of mental health issues), and that's going to drive a lot of traffic in the treatment space as well," Lehinger said. "I see exponential growth, as this will start to become a lot more mainstream."
For anyone considering suicide, contact the National Suicide Prevention Lifeline at 1-800-273-8255 (Español: 1-888-628-9454; Deaf and Hard of Hearing: 1-800-799-4889) or the Crisis Text Line by texting HOME to 741741.

Get on the list.
Dallas Innovates, every day.
Sign up to keep your eye on what's new and next in Dallas-Fort Worth, every day.